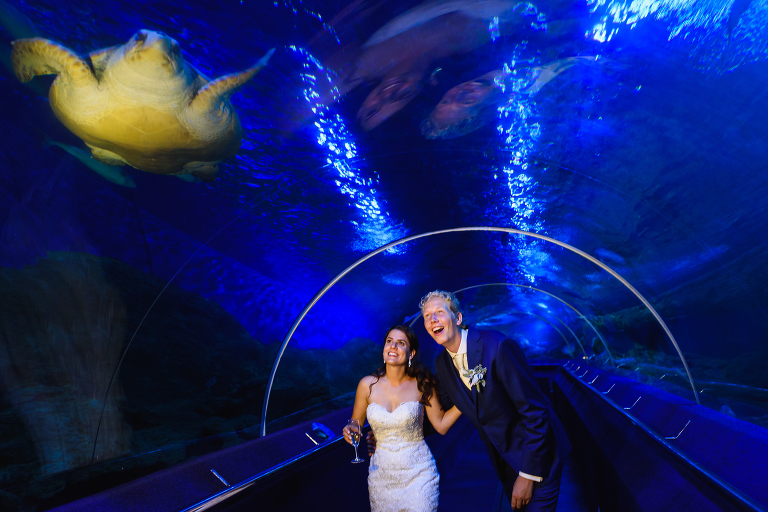 .
Vicky & Frans  had the best Perth wedding, complete with the underwater aquarium reception at AQWA, it was one of those magical ones I can't stop talking about to everybody.. The always effervescent Father Joseph at the beautiful Holy Rosary Church in Nedlands & beautiful backdrops at UWA & Matilda Bay.
The Kindest and Funniest Bride and Groom
There was perfect Perth summer weather and the fabulous AQWA as their reception venue to wow their guests, especially the "Dutchies" that had travelled to help Frans celebrate his wedding & new life with Victoria in Australia. But beautiful locations don't make a magical wedding; special people do. Victoria was the bride who served delicious food to everyone during bridal party photos, (even me!), who had a hot weather plan for her pregnant maid of honour, who gave her speech in two languages to include her new family. Frans is the groom who has two best friends who think nothing of flying across to share a special day, because he is their musketeer, who builds a step for Vicky so she can kiss him all day without getting a sore neck, who dances with his nieces on the dance floor, and makes everyone feel happy & welcome. Together they made a celebration that brought families together, rejoiced new & old friends, and introduced us to a certain new way to say "Frans is a very special guy" in Dutch 🙂 If they got half as much joy from their wedding day, as I could clearly see their family & friends had being there, then theirs was one of the best wedding days.. Much love & congratulations xx Mel
.