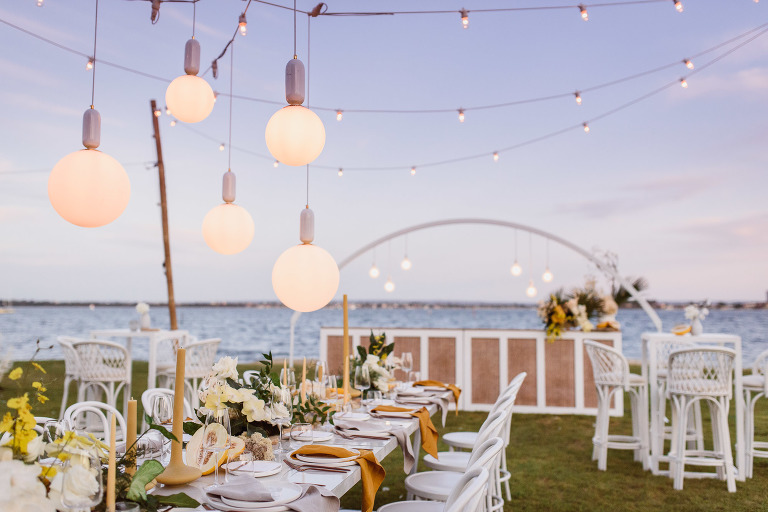 .
It's difficult not to write a gushy post about how fabulous this year's 2020 Nedlands Yacht Club Perth Twilight Wedding Expo really was.. Jacinta, the Events Manager at NYC always seems to bring together the best and kindest bunch of Perth wedding vendors around to create magic on the Swan River foreshore.. And, not to jinx it, each year we've had a beautiful balmy summer night and stunning sunset too! Its the best, being to able to meet so many fabulous couples planing their dream wedding day, and catching up with all my fave wedding industry crew.
I love being able to capture all the goodness of so many talented people who bring wedding dreams to life.. Below the gallery of some of my fave images I've listed the vendors involved.. And over the coming weeks on social media I'll be sure to tag individual suppliers.. If you've fallen in love with a particular photograph of an install that you'd love something similar for your wedding, contact me and I'll let you know ASAP who to speak to! And of course, if you are looking for a wedding photographer, I'd love to be yours! Much love Mel xxx
PS: Biggest thanks to Jacinta at NYC for inviting me and being on the cover of their brochure for this year, and Sarah at Heart Strings Hire and Style for setting up my stand with their gorgeous furniture!
.
.
The Amazing Wedding Vendors from Nedlands Yacht Club Twilight Wedding Expo 2020
Zone 1 (Pendants and Ratten Bar)
Stylist & Furniture: Heart Strings Hire and Style
Florist: Rose and Bud
Lighting: Festoon Lighting Perth
Crockery & Cutlery: Side Serve Perth
Menus: Paige Tuzee Designs
Supplier Sign: Creative Line and Co
Zone 2 (Overhead Floral Install)
Stylist, furniture hire, florals, lighting: Maisey Collections
Crockery & Cutlery: Side Serve Perth
Zone 3 (Greenery Long Table with White Chairs)
Furniture, Cutlery, Crockery: Hire Society 
Dancefloor: The Dance Floor Co
Love Letters: Vintage Letters AU
Lighting: The Event Mill
Zone 4 (Couches and White Washed Furniture)
Stylist, Furniture, Lighting: The Event Mill
Florals: A Little Bohemia
Tableware: Touched by Angels
Tableware: Orielle
Dessert Grazing table; Nedlands Yacht Club
Supplier Sign: Creative Line and Co
Zone 5 (Long Table on Veranda)
Stylist: Zoe Emily Events
Furniture: Maisey Collections
Tabletop Set & Décor: Hire Society
Table Raisers: Ultimo Catering
Signage & Stationary: Creative Line and Co
Make Up: The Blushing Bride Perth Makeup
Menswear: Suit Vault
Catering: Heyder & Shears 
Natural Confetti: Natural Love Confetti (my 6 and 9yo kids little business, I'm so proud of them!)
Videography: Inception Video
Wine Samples from inside: Claret & Co 
Celebrant: Belinda Clinton Celebrant & MC
Cake Supplier: Jessikat Kakes
Jewellery Stall: The King Creative 
Catering: Prestige Catering
Stationary: Creative Line & Co
Cake & Dessert Supplier: Sieve & Stone
Dresses: Jonte Designs
DJ inside: Western Sounds
Celebrant: Kiss Me You Fool – Dilhari
Catering: Ultimo
Celebrant: Kirk Goodsell
Dj, Photobooth, Lighting on verandah: Complete DJ
Food Truck: Sultan Pepper
Kombi Van transport: Vintage Kombi Promotions
Caravan Bar: Monty the Caravan Bar
Other Photographers – Erica Serena Photographer and Fields + Skies Photography